Thank You To Our Supporters
The new "Generations" community center would not be possible without the generous support of our donors.
Our supporters our proudly displayed on this page.
[ *
Please Do Not Edit Above This Line Or Remove This Alert – This is only visible here on the editing page*
]
[/one_third]
We rely on your tax-deductible monetary donations to help provide services to the seniors in the Lakeland Community and with our new building expansion.  You can opt to donate to our general operating expenses OR you can opt to give a special donation for the establishment and maintenance of our new center, which will be located between Howard Young / Ascension and One Penny Place. Please consider us in your estate planning, as well.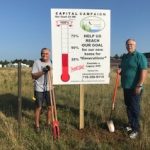 We thank you in advance for your help in making us stronger.
If your prefer to mail in your donations instead of using our online provider, please send donations to:
Mailing address:
Lakeland Retirement Foundation/Generations
PO Box 1815
Woodruff, WI 54568
Phone 715-356-9118
---
A Special Thank You to the Following Donors:
Eagle/Founder $50,000+
Musky $25,000+
Whitetail $10,000+
Anonymous Donor
Rosalie Hunsbuscher
Dorothy Maas
Hawk $5,000+
Bill & Roxanne Blowers
St. Matthias Thrift Shop
Marshfield Clinic
Dennis Wieck & Kathleen Vuchetich
Mike & Geri Heppe
Deborah Wilson
Badger $1,000+
Marion Kamke Estate
Holy Family Vacation Bible School/JAM
Lakeland Noon Rotary
Peace Lutheran Church
Harriet Jordan
Musky Area Wood Carvers, Inc.
Gaslight Antiques & Collectibles
River Valley Bank
Schultz Building, Inc.
Ron & Alice Russell
Fox $500+
Pukall Lumber
John Bie
Jill Lemke & John Kimbrell
Dr. George T. Anast
Dave & Holly Dionne
Pukall Lumber Foundation
Kurt & Michelle Veldhuizen
Dorcas Burlingame
Chris Hiller/ReMax Property Pros
Nicolet National Bank
Ron & Alice Russell
Richard & Patricia Schwai
Community Church of Boulder Junction
Bank of America Charitable Foundation
Hazelhurst Lions Club
Owl up to $499.00
Wednesday Afternoon Bridge Group
Northwoods Neighbors
William Koff
Wayne Klappa Family Fund
Elaine Kotlarek
John & Katie Zwers
Ted & Judy Russell
Jon & Carolynn Treu
Donna Liebenstein
Bonnie "Hannah" Dana
Madge Matz
Greg & Sharon Wright
Bob & Barb Stueber
Candace Sorenson
Jeannine Laibly
Denae Bachmeier
Mike & Sue Piazza
Marvin Stolp
Dr. John Butler
Father Aaron Devett
Raymond & Faith Wilde
M. Jean Allen & David Saeger
Kilwin's Chocolates, Fudge & Ice Cream
Sleep Central
Bill & Betty Wentland
Wednesday Duplicate Bridge Group
Riiser Fuels/R-Store
Stuart & Kathleen Foltz
JJ's Acres/Judy Juries
John & Bonnie Margitan
D&J Kilawee Enterprises/Richard & Joanne Strucel
Gina Zagotta
Murphy's Furniture & Bedding
John & Ruth Joswiak
Valeree Lecey
Minocqua Country Club Duplicate Bridge Group
Mildred Belluomini